"…Thank you for the wonderful time at La Vacherie. As always, the time was much too short. In March, we're back … Spring in Normandy, you simply must be experienced."
Birgit Njie, Germany
Welcome to La Bourdonnerie
Beautiful holiday homes on a norman farm
4 cosy cottages
each with it's own private outdoor space, renovated with loving care to high standards.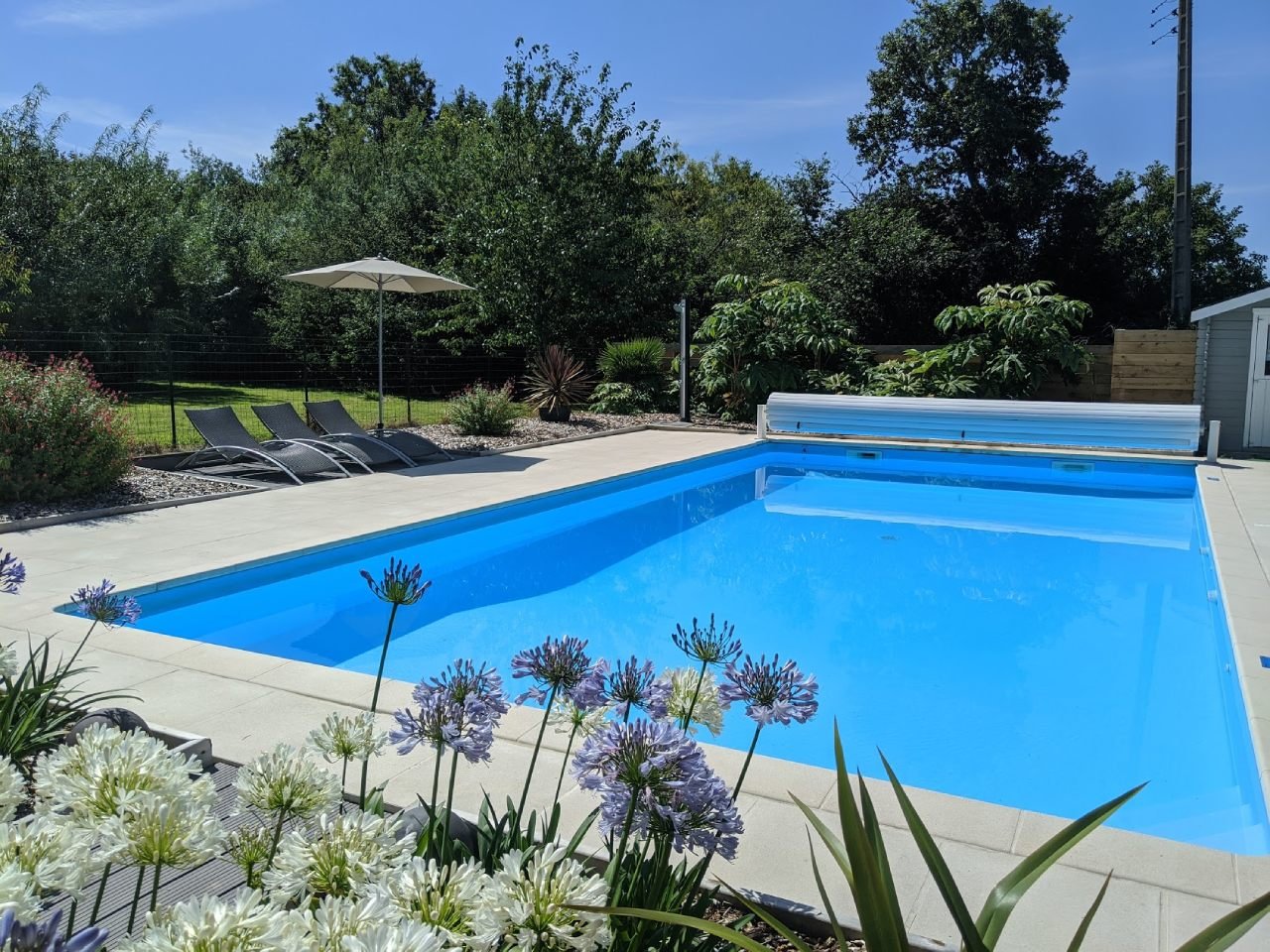 Outdoor heated pool
Built in 2016, our 10m x 5m outdoor heated pool is perfect for relaxing and having fun after a day out
Stunning grounds
With over 45,000m2 of outdoor space, experience unbelievable peace & quiet of our farm.
Anyone for tennis?
We can supply rackets and balls, bring your own skill...
Endless fun...
Goats, ducks, chickens, swings, trampoline, badminton racquets…
Beaches: 10 Minutes!
Pick from amongst hundreds of golden sandy beaches to explore and enjoy nearby.
Dog friendly
Dogs aren't just 'allowed' at La Bourdonnerie they are as welcome as their owners!
Owners on hand
German / English & French spoken, we're here to help if you need us
The Cottages
Description
Your perfect holiday cottage in Normandy is set in the peaceful, idyllic grounds of La Bourdonnerie, a 300 year old Farm on the West coast of the Normandy peninsular, which has over the years been converted with lots of care and attention to detail into cosy holiday homes.
The farm consists of the main stone farmhouse and 4 self-catering holiday cottages, or 'Gites' as they are called here in France. The cottages have been converted from the natural stone barns and cider press that formed the original farms buildings, and each has its own unique character and style.
The cottages and farmhouse are set within 3 hectares of landscaped grounds, and encircle a traditional Norman courtyard with flower beds, seating and a gently flowing stream. Beyond you will discover an orchard with an outdoor heated swimming pool, lawn tennis court, two ponds, chicken run; goat enclosures, ducks, singing frogs and a large playing field with trampoline and swings, perfect for children to play and to exercise dogs.
Holiday on the Cotentin Peninsula
We are only a 10 minute drive from our nearest white sandy beach. If you enjoy beach walks with your dog, you should check out our map Dogs on the beach Cotentin Peninsula, Normandy… as most are dog friendly.
We are well situated for trips to Le Mont Saint Michael, Bayeux, and the Normandy Landing Beaches. The markets towns of La Haye du Puits and Lessay with their boulangeries, boucheries, charcuteries and weekly markets are within 5 minutes drive. We are based within the Cotentin & Bessin Nature Reserves, and enjoy a year round mild micro climate. So should you seek nature, history, cultural exploration, gastronomy, sports or just relaxation, La Bourdonnerie offers a great base to discover all that Normandy has to offer.
The gardens
With over 3 hectares of private space, there's something for everyone at La Bourdonnerie. Click on the images to enlarge.
Pool
We have a beautiful, 10m x 5m swimming pool in our orchard which is shared with all guests at La Bourdonnerie. The swimming pool is heated to 27 degrees from June to September inclusive, and is open daily from 10am to 8pm. Kids will love playing in it, but also at 10m long it's sufficiently long for adults to get a decent swim. So if you're looking for a normandy holiday cottage with a heated swimming pool, come and stay with us!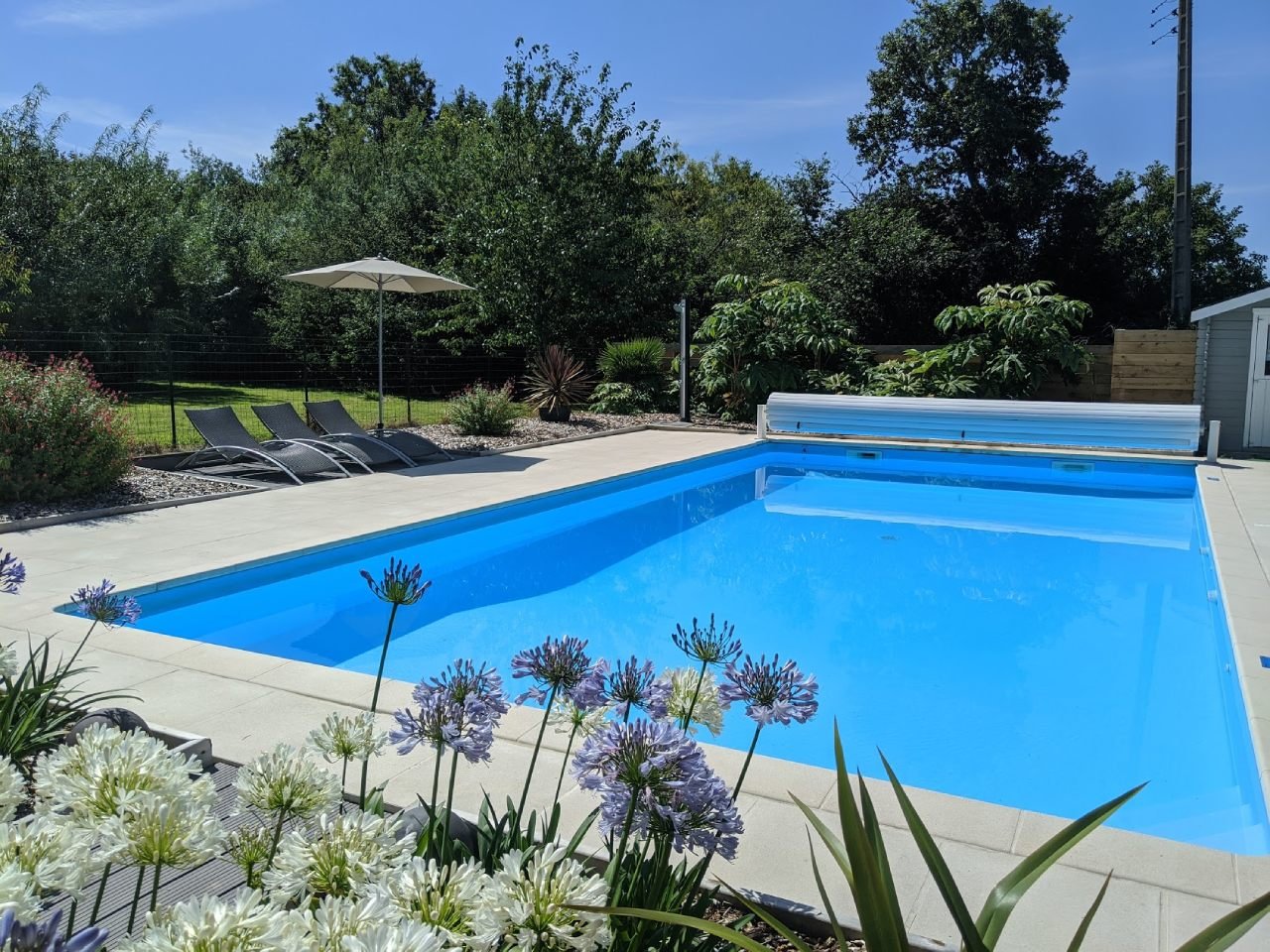 Feedback
Normandy Gites
If you're looking for Normandy gites then you've come to the right place: our gites are nestled in the beautiful norman countryside just 10km from the beach on the Cotentin peninsula. As the crow flies, we're about 20 miles from Jersey, and you can see the island from our nearest beach, St Germain. A 'gite' is essentially a french name for a holiday cottage, although many truly french gites can be somewhat 'rustic'. Our normandy gites are high quality, and we aim to give our guests a 'home from home' experience. We have 4 gites to choose from: La Lapiniere, our biggest and most luxurious cottage which was converted from part of an old barn (which used to house the pet rabbit… hence the name), La Vacherie, which is carved from the same old barn and is fitted out to a similarly high standard, Le Pressoir, the old cider pressing house which sits across the norman courtyard independent from the other two gites, and La Fontaine, our newest addition, set away from the main courtyard in its own private grounds. So come and stay with us in Lower Normandy, and experience gites like no other!
Dog Friendly Holiday Cottages to rent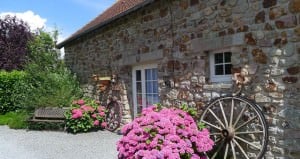 There's always lots of rental options which present themselves when you're off on holiday, and we decided to start offering dog friendly holiday cottages to rent to our guests because it was always our own favourite way of travelling. Many guests comment that they love the independence of renting their own cottage to stay in on holiday with their dogs, but at the same time appreciate that they are on our 'farm', knowing that we're on-hand should they need any help with anything during their stay, be that restaurant recommendations, ideas for day trips, or help with translation. That's the beauty of renting a holiday cottage with us. So if you're looking for a dog friendly holiday cottage or gite, come and spend your holiday with us!
Self catering accommodation in 'Normandie'
One of the additional delights of taking self catering accommodation here is that, having sampled some of the amazing local gastronomy of the 'Normandie' region you can try to re-create it in the comfort of your own holiday home. One of the things 'Normandie' is renowned for is it's food, from amazing cheeses and hams to fantastic seafood. Guests love buying oysters from the local markets and then serving them fresh as a first course before a barbecue in their private garden space, and our chickens love the crushed shells afterwards! The other benefit of taking self catering accommodation is that you can match your itinerary to your budget: many guests eat out in restaurants a couple of times a week and choose to cook in their cottage the other days. All of our self catering cottage's kitchens are well stocked with all the pots, pans and utensils you might need, and should anything be missing, we're on hand to help.